Okayama, Kurashiki, Asakuchi, Ehomaki of Fukuyama are Kora Honten for 2,018 years
In each shop & net under reservations!
As for the lucky direction sushi, crab dishes Kora Honten is particular about the subject matter in Kora Honten and is special dish which made heart. Lucky direction sushi which was fully clogged up with crab of Kora pride had favorable reception very much in average year and sold 9,000 last year. Ehomaki which is lucky visually which was colored on day of Setsubun by red and white in family. If it is Ehomaki of Okayama, Kurashiki, Asakuchi, Fukuyama, for 2,018 years, have lucky direction sushi in one of Kora Honten.
※The photograph is for illustrative purposes only. Due to the stocking, some contents may change.
[Okayama Kora Honten]
11-38, Toyohamacho, Minami-ku, Okayama-shi
Tel. 086-261-4588
[Kurashiki Kora Honten]
866-1, Higashitomii, Kurashiki-shi
Tel. 086-430-0088
[Fukuyama Kora Honten]
Fukuyama-shi south 5-1-8, Zao
Tel. 084-971-9188
[Kurashiki-saryo]
302, Hirata, Kurashiki-shi
Tel. 086-423-8288

[Okayama Takayanagi shop]
Tel. 086-253-8855
[Hirata, Kurashiki store]
Tel. 086-425-8808
[main store]
Tel. 0865-44-3118
[Okayama Ichinomiya shop]
Tel. 086-284-9088
[virtue to play]
Kaminakano, Kita-ku, Okayama-shi
2-4-1
Tel. 086-246-6188
[Nishigawara, Okayama store]
Tel. 086-270-5188
[Kurashiki Nishioka shop]
Tel. 086-430-2288
[Genki-mon]
4-18, Honmachi, Kita-ku, Okayama-shi
Core Honcho 2F
Tel. 086-236-0588
[Mugitoroya Tankura]
1, Mizue, Kurashiki-shi
Aeon Mall Kurashiki 1F
Tel. 086-441-5580
[Aeon Mall Okayama]
Tel. 086-238-2883
[abandoned Kurashiki]
Tel. 086-441-5488
※ Tasty meals and liquor Genki-mon should be handing over after 13:00.
※"Yakiniku House kamogata" is "kamogatachampon", and "Bicchu-Kurashiki Setouchi-an" cannot receive.
※"Yakiniku House kamogata", please receive customer of "kamogatachampon" in "Kamogata-tei main store" in the site.
※ On the day please pay the price in exchange for product.
※ On the day receipt window of Kora Honten may be crowded very much.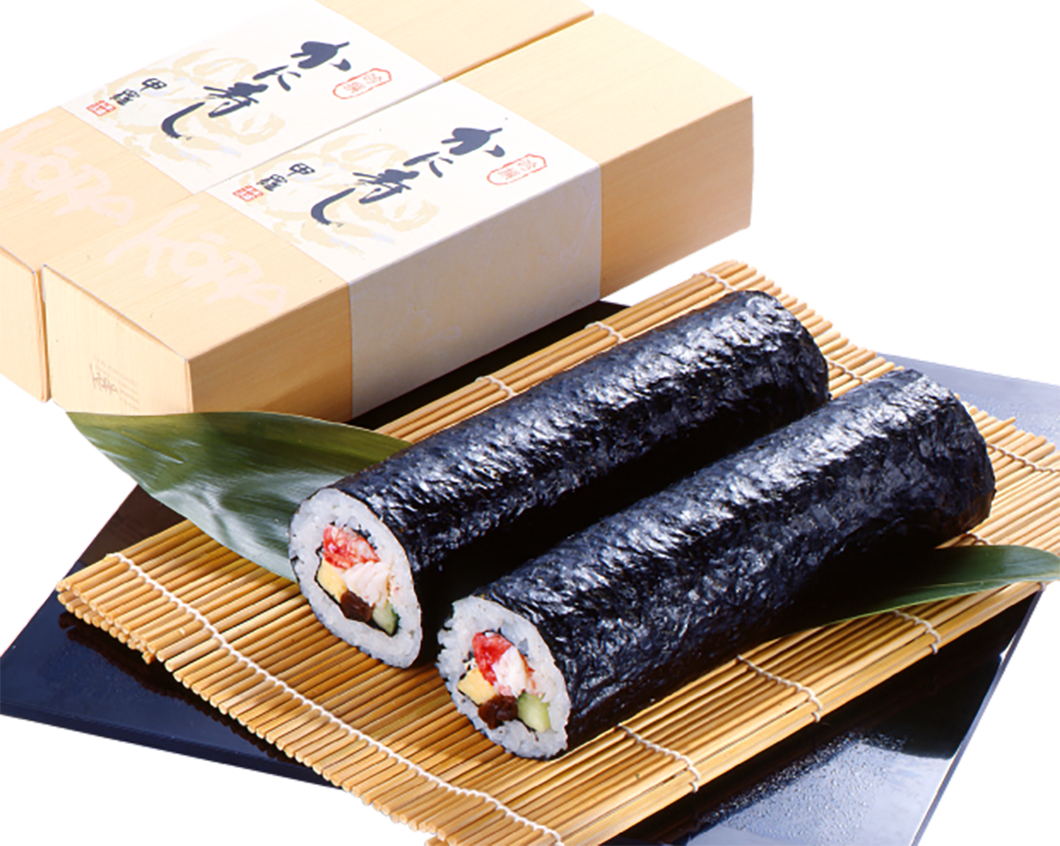 Popular basic lucky direction sushi which is tasteful although being simple which surrounded the crab body and egg, Kanpyo, cucumber.
Discerning deluxe lucky direction sushi of Kora which headed spontaneously, and was clogged up with the body and deluxe ingredients materials of king crab selected carefully.
It was said to be the origin of Japanese beef and used valuables class "1,000 shop beef" which had taste that was full of good-quality fat and flavor.
※With "delivery method" of order screen column, please choose "store handing over".